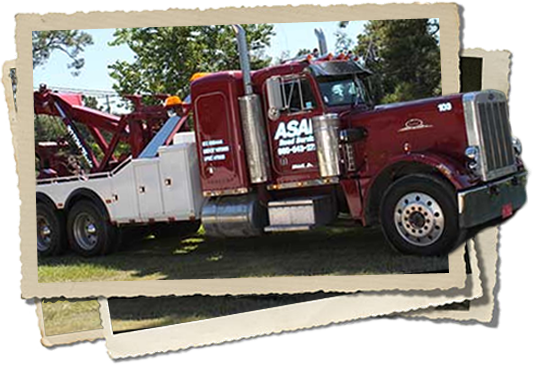 ASAP Towing & Road Service and ASAP Equipment Transportation have been a fixture along Louisiana's I-10/I-12/I-59 corridor since 2005. Located approximately 30 miles from the city of New Orleans in Slidell, ASAP employs a versatile, experienced crew trained to operate our fleet of the most technologically up-to-date equipment available.
With more than 100 combined years of towing and recovery experience, the certified staff at ASAP is known for successfully tackling the toughest jobs that others decline. From prompt and efficient roadside service, light-, medium-, and heavy-duty towing, complicated recoveries or load shifts and swaps, even submerged vehicles and boats, ASAP is your choice for every aspect of road service, towing and recovery.
ASAP was established during the devastating aftermath of Hurricane Katrina so the company was founded with the most altruistic of intentions. Every day, ASAP's employees are proud to live up to their company motto,
"Quality Service at a Reasonable Price."
In addition to being the Northshore's only towing operation staffed by a full complement of certified operators, ASAP's founder is also a fully qualified Registered Nurse and Paramedic. These credentials allow ASAP to offer our customers an added layer of safety, particularly during the more hazardous recoveries in Louisiana's hot, humid climate.
ASAP regularly services the area's municipal and law enforcement agencies. ASAP Towing is an authorized provider of accident and breakdown towing and recovery by the Louisiana State Police Troop L, the St. Tammany Parish Sheriff's Office, the City of Slidell, La. Police Dept., and the City of Pearl River, La. Police Dept. As such our equipment, storage facility, offices, insurance documents and employees are reviewed annually for your safety. No matter how large or small your towing and recovery needs may be, ASAP is southeast Louisiana's choice for quality and efficiency.